It's no secret that the digital age has given us some great tools, like online banking and P2P payment services such as Venmo and Zelle. Unfortunately, where there's convenience, there are always cybercriminals lurking, eager to exploit and drain your hard-earned funds.
At Advia Credit Union, we want to help keep you and your money protected from these types of fraudsters. Recently, we have received reports of scammers impersonating Advia through fake text messages in an attempt to steal personal information. We are here to help and ensure that you do not become a target of these kinds of fraudulent schemes.
A closer look at Online Banking Impersonators
These cybercriminals often use social engineering techniques such as sending convincing text messages or emails that appear to be from legitimate financial institutions. They leverage P2P payment platforms like Venmo and Zelle to exploit the intrinsic speed and ease of transferring money.
An example scenario may look like the following, according to Advia's Fraud Team:
You receive a message that seems to be from your bank or credit union (such as Advia Credit Union) informing you of a supposed security breach or an urgent need to update your online banking credentials.
The message requests sensitive information, including usernames, passwords, and even account numbers.
In a moment of panic, you might unwittingly provide this information, granting the fraudsters access to your accounts.
Below are examples of deceptive text messages, which were recently received by members and subsequently reported to Advia: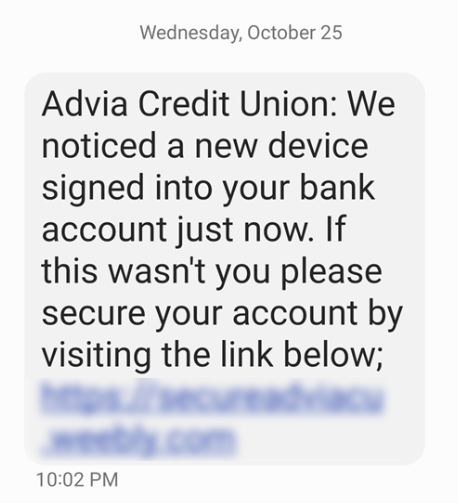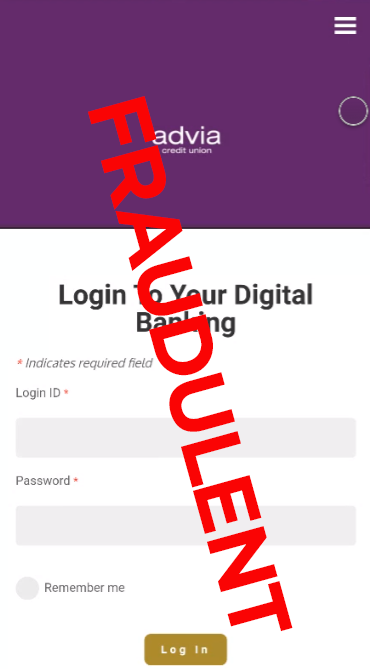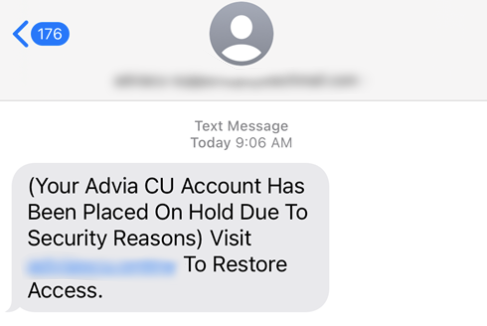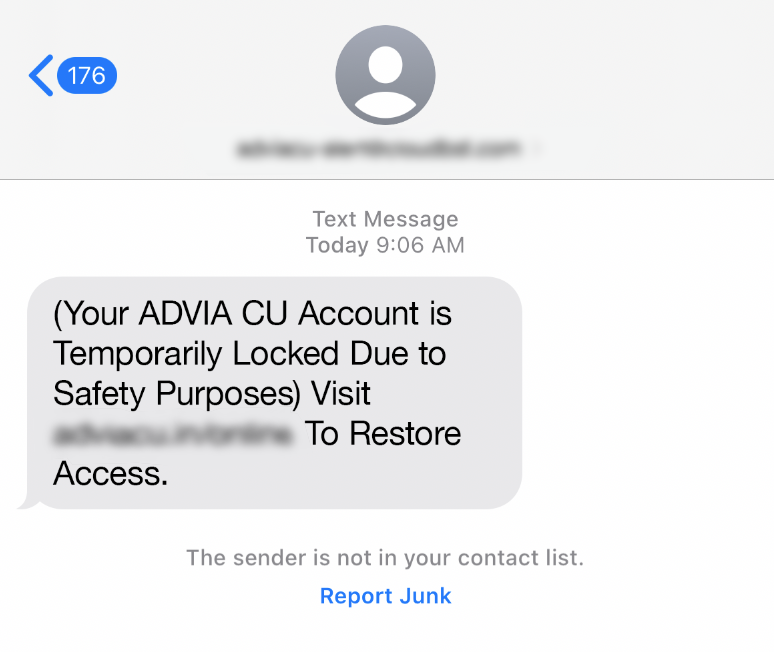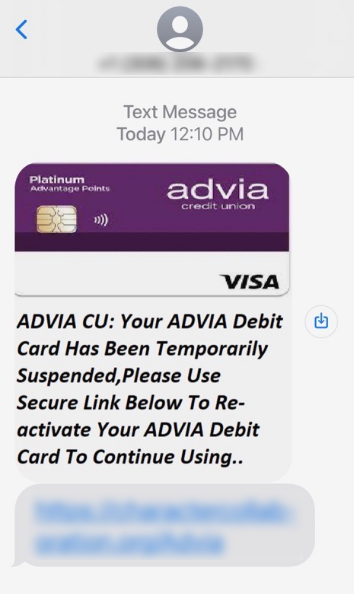 What happens if you receive messages like these?
If you have received such a message and you haven't clicked on any links or responded, that's great. We recommend you take a screenshot of the message, report it immediately, and then delete the message. You can report the message to your financial institution and to the Federal Trade Commission.
What if you click a link or provide personal information to a contact impersonating Advia?
Do not panic. First and foremost, we strongly advise you to modify your online banking credentials and establish account alerts. This will allow you to remain informed about any activity transpiring within your account on a continuous basis. You can complete these actions by following the subsequent steps:
Next, we recommend reporting the suspected fraud to the Federal Trade Commission. After, please reach out to us directly at 844.238.4228.
Remember, we're here to support you. Your vigilance and proaction help us keep your financial world safe and sound. We've got your back every step of the way.
Recognizing Legitimate Communications
IMPORTANT: Advia does offer text message options to stay on top of loan payments, account alerts, and fraud protection. Be in the know which text messages may come Advia and save in your mobile device. In cases of uncertainty, exercise caution and abstain from responding or clicking on links from unknown sources.
Moreover, while Advia's vigilant Fraud Protection Team may initiate contact when unusual transactions surface, it is imperative to note that we will never solicit confidential details like your social security number, account number, or online banking credentials. If you receive a call, email, or text message that appears to be from us that asks for this type of information, it is a scam. Hang up, delete, or report as spam.
Remember: Your privacy takes center stage here at Advia. We understand dealing with fraud can be nerve-wracking and we're here to put your mind at ease and help you stay informed and protected.