Apple Pay
Enhanced the way you pay for transactions with Apply Pay.
Step 1: Setting up Apple Pay
Select the Passbook or Wallet icon.

or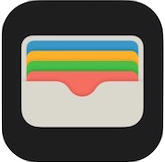 Select the + sign in the upper right corner of your screen.
If you already have your Advia Credit or Debit Card on file with iTunes, simply select Use card on file with iTunes. You will be prompted to enter your card's security code (CVV) from the back of the card.
If your Advia Credit or Debit Card is not already on file with iTunes, simply select Use a different credit or debit card. This option will prompt you to scan your Advia card with your iSight® camera or you can manually enter your card information. You may be prompted to call Advia for tokenization.
To make your Advia Credit or Debit Card your default card:

Go to Settings > Passbook & Apple Pay
Tap Default Card
Choose a new card
Step 2: Using Apple Pay
Look for the payWave® or Apple Pay symbol at

checkout and hold your phone near the contactless reader. You will not need to wake up your phone.
Place your finger on the Touch ID™. Or, you may need to enter your passcode and sign a receipt.

Keep your phone by the reader until it vibrates and beeps, indicating your payment was accepted.
On iPhone and iPad, you can use Apple Pay to pay within apps when you see the Buy with Apple Pay button or Apple Pay as a payment method. Look for these buttons in apps: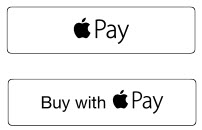 You can remove the ability to pay with your credit or debit cards from Apple Pay on iCloud.com. Just sign in, click Settings, choose your device, and click Remove All.
You can go to icloud.com/find or use the Find My iPhone app to suspend or permanently remove the ability to pay from that device with Apple Pay. Your cards will be suspended or removed from Apple Pay even if your device is offline and not connected to a cellular or Wi-Fi network.
The cashier can use the Device Account Number to find the purchase and process the return, just like they would with a traditional credit or debit card payment. To see the last four or five digits of the Device Account Number for your iPhone or iPad, go to Wallet, tap the card, and tappayWave® applePay. For your Apple Watch, open the Watch app on iPhone, tap My Watch > Wallet & Apple Pay. Tap your card to select it and see the Device Account Number. Apple Pay activity is also included on your credit and debit card statements.
If the cashier needs your card details to process the return, you can follow the same steps for making a payment:
On the device that you used to make the original payment, select the card that you want to be refunded. On your iPhone, hold the device near the reader and authorize the return with Touch ID or passcode.
On your Apple Watch, double-click the side button and hold the face of your Apple Watch a few centimeters from the contactless reader. Depending on the return and refund policies of the store, it may take up to several days for the return transaction to appear on your credit or debit card statement.
When you view your card in Wallet, you'll see the last transaction for each credit card or debit card.
Yes. When you pay using Apple Pay, you'll continue to get the rewards, benefits, and security that your credit or debit card provides.
You may need to sign a receipt, depending on the store and the transaction amount.
Yes! Apple Pay is just another Advantage we offer our Members. Standard message and data rates do still apply.
Apple Pay is safer than using a traditional credit or debit card. Every transaction on your iPhone or iPad requires you to authenticate with Touch ID or your passcode. Your Apple Watch is protected by the passcode that only you know, and your passcode is required every time you put on your Apple Watch. Your card number and identity aren't shared with the merchant, and your actual card numbers aren't stored on your device or on Apple servers.
iPhone 6 or iPhone 6 Plus and newer (Apple Pay in stores and within apps)
iPad Air 2 or iPad mini 3 and newer (Apple Pay within apps)
Apple Watch paired with iPhone (Apple Pay in stores)
iOS 8.1 or later
United States as your selected region
Touch ID or passcode on your iOS device
A passcode on your Apple Watch and Wrist Detection turned on
An Apple ID signed in to iCloud
Supported Advia Credit Union Credit or Debit Card